ArtsMark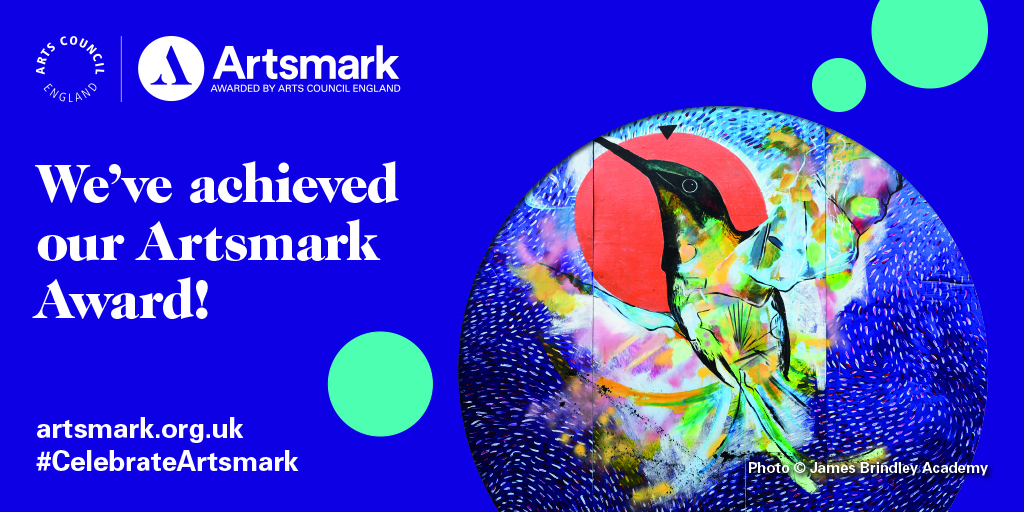 ArtsMark Gold Award School
We were very proud to have been designated an ArtsMark Gold Award school (October 2021 – October 2023) – as awarded by the Arts Council – in recognition of our focus of high quality arts provision for all students at Wellington School.
The panel has made the following comment about our submission:
"Your commitment to the Arts is evident in extended provision and in extra-curricular activities. Your understanding of the importance of cultural capital for your disadvantaged pupils is admirable, as is your willingness to engage with the wider community. It is good to hear of your interest in pupil voice, your willingness to adapt e.g., clubs' provision as a result of your pupil surveys and your enthusiasm for student leadership."
We are pleased to announce that our Statement of Commitment to working towards the ArtsMark Platinum Award over the next two years has been accepted. We look forward to continuing to develop the Arts culture in our School.

Our Journey for Platinum
We have successfully submitted our Platinum Arts Mark Statement of Commitment and are now working towards achieving this award in Spring 2024.
We are particularly focused on developing the Arts at Wellington in the following ways:
An Expressive and Creative Community
Community of one of the School's values and ensuring that all of our pupils are valued members of the School community through the participation in both the Arts and initiatives is of tantamount importance. Our pupils are involved and have a voice in all aspects of School life and feel they are heard.
Our Community is diverse and increasingly so and Wellington supports pupils with a wealth of needs. The Hive is our inclusive SSC; likewise, our increasing diversity of EAL pupils has led to a number of events to welcome both new pupils and parents/carers to the School. Over 100 pupils have readily trained as Young Interpreters to ensure all new pupils have access to a buddy as well as redesigning aspects of the School to promote languages and inclusivity.
The School actively participates in initiatives in the local community from our Jubilee corgi, Lady Wellington, to Painting Altrincham Blue. Likewise, our outreach links have led to wonderful author visits from Sathnam Sanghera amongst others.
'I try to be an advocate for equality with in the School; I enjoy voicing my ideas at the School Council to improve the school experience for everyone!'
Oscar, Year 10
Reading for Pleasure
There is dedicated time to read for all year groups at Wellington, from Ks3 LRC lessons to Sixth Form Enrichment activities. The LRC is the hub of the school, frequented by numerous pupils and classes. All teachers promote the books they are currently reading and are also dedicated to being advocates for disciplinary reading in their subject areas too. Departments ensure that their curriculum is promoted through the Access It dashboard and that the reading materials available in the LRC mirror their curriculum.
For those that require extra support, staff provided impactful interventions to ensure pupils' reading skills are strong.
And who could forget our extensive efforts for World Book Day each year?

'I was involved with the BBC's Share Your Story because I wanted to inspire people to do things that make them a bit uncomfortable, but in the long-term, help our community!'
Maiko, Year 8
Pupil Leadership
Pupils are not just involved – but lead – within our School community. Through the School Council, the Executive Committee, the Gender Equality Council, to our Young Interpreters, Wellbeing Ambassadors, Anti-Bullying Ambassadors and Peer Mentors, our pupils have a voice of which its impact can be seen. From site improvements to policy changes, our pupils will definitely be leaders of the future and many have also represented the School in regional events such as the Trafford Youth Cabinet.
Our Scholars programme is designed to help our younger pupils aspire to University and we cannot wait to introduce the Natural Leaders programme for our Y8s too! For those keen to exercise their influence further in the future, many of our Politics students have visited the Houses of Parliament and met with the Mayor, Andy Burnham.
'I am currently a peer mentor which allows me to help other pupils; the reason why I do this is so students of a similar age have someone to trust and can talk to.'
Ismail, Year 10
Extra-Curricular Provision
The extra-curricular provision at Wellington knows no bounds: from show-stopping school performances such as High School Musical and Matilda to our pupils carrying out interviews with BBC's Newsround and participating in Share Your Story, there is plenty happening all of the time! We are even participating in the Formula One in Schools project!
Our extra-curricular provision represents our focus on inclusivity with clubs and drop-down events for Black History Month and Pride Month amongst others; likewise, literacy and creative expression are nurtured through project days and storytelling events. The creative elements with our STEM extra-curricular provision allow for pupils to apply creative thinking to complex problems.
Trips take Wellington pupils to a wide number of artistic venues from The Globe to the RSC and teachers seize opportunities to allow our pupils to top-up their cultural capital. All of Y7s begin Wellington with a performance at the Bridgewater Hall too!
'I've tried everything I could this year and I have put my whole effort into every role, event and our community. This School is the best place to discover our talents!'
Kate, Year 7
Careers
Awareness around careers in the Arts or any creative enterprise is of tantamount importance and the School actively support pupils with careers advice, conferences, webinars and in-house events to keep them well-informed. Creative enterprise experiences allow pupils to imagine themselves in later life and our curriculum harnesses opportunities for pupils to learn more about careers in the Arts such as journalism or scriptwriting. The School's investment in the Unifrog platform ensures pupils can log their skills and learn more about the careers they aspire to at the touch of a button too!
'I always put my name forward to help out when my form tutor asks!
Alexander, Year 8
Arts Award
We have launched the 'Explore' Arts Award this year for a large group of dedicated Year 9 pupils with an enjoyment of the Arts. With an extensive focus on scriptwriting, pupils have engaged with learning about the nuances of this and creating their own scripts as they work towards their final assessment.
In October, all of our pupils entered for the qualification, led by Trinity College London, achieved passes, receiving certificates and adulation from their peers.
'I enjoy helping students find out who they really are!'
Sufyaan, Year 10
LAMDA
At Wellington, pupils are given the opportunity of participating in LAMDA provision and we have pupils from all year groups taking part. It gives pupils the opportunity to extend their passion for performing weekly. Pupils have weekly sessions with specialist LAMDA deliverers who enrich their drama studies with an extensive range of skills and opportunities. Our LAMDA pupils also have the opportunity to take part in examinations, working through the grading system. These examinations are an amazing opportunity as they offer pupils UCAS points for their university applications in the future as well as the experience of success.
'I always help out in Drama and I would like to think I get all the wacky roles!'
Reuben, Year 9
Music Qualifications
All students who receive Music specialist tuition via our own Music Service are given the opportunity to work towards a range of qualifications on the Regulated Qualifications Framework. Students work towards qualifications awarded by the following bodies: ABRSM, Trinity, Trinity Rock and Pop, Rock School and the London College of Music. We also act as an official examination centre venue for internal ABRSM examinations.
'I am hoping to inspire the next generation!'
Dekota, Year 10