Year 7 Christmas Card Competition
"Over the past couple of weeks Year 7's have been taking part in the Home Instead Senior Care design a Christmas card competition" writes Mrs Dunne.
"This week I am thrilled to announce we have 2 winners, Daisy Boyer and Phoebe Tuzio.
The girl's beautiful designs will be printed and sent out with Christmas presents to local elderly people and also used as Home Instead Senior Care company's Christmas card this year. Well done girls."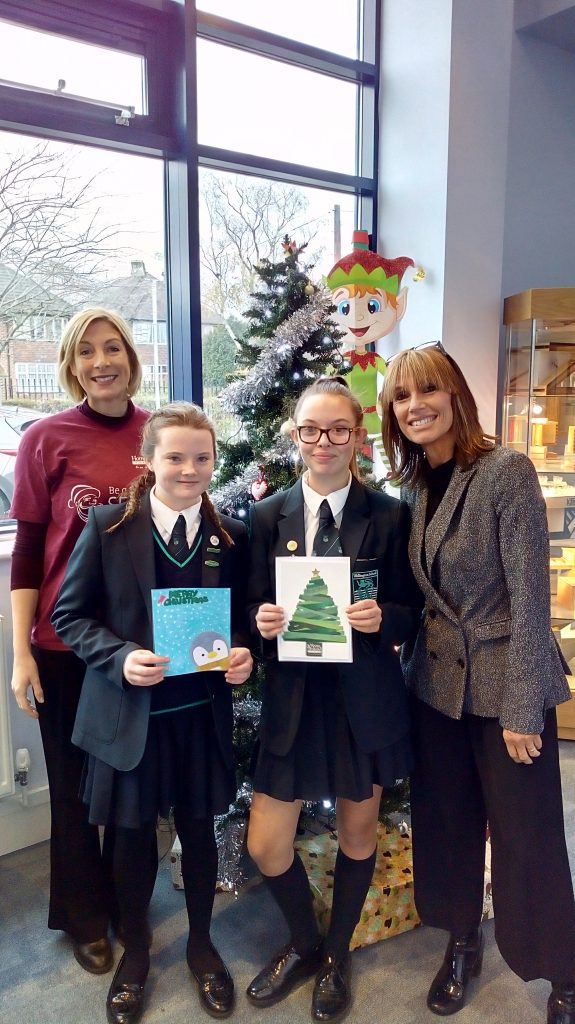 Did you know that two fifths of all older people (about 3.9 million) say that at Christmas their television is their main companion?
Every year Home Instead Senior Care (Altrincham and Sale) run a Christmas gift giving appeal called Be a Santa to a Senior. People from our local community donate a present and we wrap them and then Doctors, Pharmacists, Social Workers, District Nurses, Wythenshawe Hospital, Churches etc. deliver them to elderly people who might be isolated or lonely this Christmas.
Here's HOW TO GET INVOLVED:
1 – Purchase a gift ie: socks, toiletries, treats, book etc
2 – If you would like leave your name with the gift
3 – Drop it off at locations below
4 – Home Instead Senior Care and community volunteers will wrap and deliver the gifts to seniors in your community
Final collection day is 10th December.
Local collection points: Timperley Sainsbury's, Timperley Methodist Church