Sponsored Walk 2014: 'Moodswings'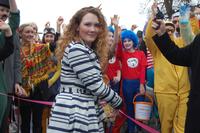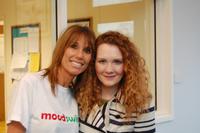 Over the years Wellington School has raised over thousands of pounds for various different charities including: Genesis Breast Cancer, Band-Aid, Francis House, Moodswings and many more.
Rosie and I got the chance to interview Wellington's Wonder Woman; Mrs. Copeland. She gave us the full overview of what it is like to be a part of organizing the annual sponsored walk.
£37,000 is the most amount of money raised by Wellington Road in the sponsored walk for one charity; Genesis Breast Cancer, in 2012.
We also found out that the logistics of the day are organized by Mr. Watson, and Mrs. Copeland organizes things such as the assemblies, getting the letters out to everyone, and the most important of all; contacting our celebrity guest to start of the sponsored walk.
Mrs. Copeland is a very busy woman as we all know; she is not only the assistant head, but she has to encourage the students to get as many sponsors and money raised as possible.
Recently she has been thinking about placing entertainment around the course to motivate the pupils to do more laps or speed up. She has noticed that the pupils start looking glum faced half way through completing the lap, so maybe the entertainment will cheer them on.
However "there are absolutely no negatives about the sponsored walk; there is room for improvement obviously, but even that is just to entertain pupils while they walk round. Magicians, clowns, musicians and things like that could be used as entertainment for the students as they walk round"
When asked to sumarise the sponsored walk, Mrs. Copeland simply stated "Wellington aims high—we have raised hundreds of thousands of pounds over the years."
Jess
Our Interview with Jennie McAlpine, affiliated with Moodswings
On Friday 7th March, Jennie McAlpine (some of you may know her as Fizz from "Coronation Street) was invite to our school to begin our annual sponsored walk. This year, the executive committee decided the charity we should sponsor is Moodswings. The charity Moodswings was founded by Jennie and her father, Tom McAlpine. Luckily, we had the opportunity to quickly interview both Jennie and Tom about their charity. The five lucky interviewers were; Jess, Rosie, Yasmin, Jasmine and I. Here is what Tom and Jennie had to say about their charity:
Rosie asked: "Why is Moodswings an important charity?"
"So Moodswings is there to support families, young people, students who are in university that are maybe worried or stressed. Sometimes it's just that you need someone different to talk to because hearing the same voice over and over again can be stressful."
Rosie asked: "How many people does Moodswings help?"
"Moodswings helps about 1,500 young people every year. We speak to them through the Moodswings helpline and now with the help of modern technology we also use Skype. Some come to where Moodswings is based to speak to someone. We are based in Manchester but people do come to Moodswings from all over the country. Also, we get people from countries such as India, Pakistan, South Africa, Canada, France and many more countries. We never turn anyone away. We don't profit from what we do; we get money to run the charity from events like the sponsored walk you are completing today. Once, I did a fun run to raise money and I completed it in an onesie!"
I asked: "What difference will the money make to Moodswings from our sponsored walk?"
"The difference will be massive. It will be spent on the families' project. But really, it will help our charity in the ways of supporting others so the money that is raised today is very important.
Yasmin asked: What were you like at school, like you favourite and least favourite subject?
"My least favourite subject at school was drama because I did drama outside of school with my dad; we were in pantomimes and other things like that so it made what we did at school rather boring. I didn't mind biology but I thought it was too much information. My favourite subject was probably English because I actually found in better in developing my drama skills. At my school, there was a girl who was vegetarian- is anyone vegetarian here?"
I raised my hand.
"That's great, but you don't brag about it do you?"
I shook my head.
"The girl did this talk in English about vegetarianism and how it's bad to eat meat. So, partially to annoy her, I did my talk on Cruelty to Vegetables. Plus, I got a higher mark than her,"
Jasmine asked: "What football team do you support?"
"I do support Manchester United but my dad does support Manchester City,"
Jasmine also asked: "What's it like playing Fizz? Do you think she is always right?"
"Yes I do! I think she is always right but she had a slight fall and a bit of madness went on. Obviously, she went to prison in the series. I think Fizz is quite a good character. Someone said to me that they really like Fizz because even when she is having a tough time, she is always smiling and I thought, either Fizz is a very happy person or I'm just a bad actor! But Fizz is meant to be miserable and even the director said yesterday: Could you try and look a bit sadder?
Jess asked: "This is one of my favourite questions to ask. If you were a Pringle what flavour would you?
"Oohh, tough one. I'd have to be a…. probably a Salt and Vinegar flavoured Pringle,"
Miss Hitchens concluded our interview," Well, thank you Jennie and Tom for giving us your time! Say thank you everyone!
"Thank you!"
By Caitlyn
The Experience Of Interviewing Jenny And Tom McAlpine
On the morning of the Sponsored Walk, Jess, Rosie, Yasmin, Jasmine and Caitlyn met Jennie McAlpine (otherwise known as Fizz from Coronation Street) and her dad, Tom McAlpine. We posed some questions to them about Moodswings, life before and after her acting career and much more. Our favourite answer, that surprised everyone, was that Jennie disliked drama in high school. It was extremely ironic, considering the fact that she is now an actress. We really enjoyed interviewing her, as she has a lovely personality and is very patient and kind. They do inspirational work, to help people that struggle with depression and other serious illnesses. The experience of this will be remembered for the rest of our lives and if we could we would do it all over again. We would definitely recommend donating to Moodswings, as it is such an important charity that helps ordinary people like us, get better. They are very approachable people, so don't be shy if you see them on the street!
Another of our favourite intriguing questions, was 'Which football team do you support?" and her reply was that she didn't support any team at all, she just went with the majority of who she was with, which in this case was Manchester United. However, Tom supports Manchester City. We also discovered her strong opinions about 'vegetable murder'. When her class was asked to do a presentation in school, her fellow classmate did one about the importance of meat, so Jennie did one about the murder of vegetables. In this, she talked about defenceless carrots not being able to run away but animals can. We all enjoyed hearing this, and we were glad that she got a higher level than her other classmates.
By Jasmine and Yasmin