International Activity
Partner Schools
French Culture Club – 31st January 2020

"This week, Loriane has been teaching our French Culture Clubbers all about French idioms" writes Mrs Ramsumair. "Did you know that "je donne ma langue au chat" is an idiom used to express the idea "I have not a clue what you're saying" but you are literally saying "I give my tongue to the cat"!
Bon week-end!"
Language Link International – 30th January 2020
"Over recent years Wellington School has invited a number of Spanish boys and girls to attend classes towards the end of the summer term" writes Mrs Stevens.
The program will run in June 2020 and the Spanish "buddies" are looking for a number of host families with whom they can stay and accompany to Wellington School.
The children are aged between 11 and 16 and are looking to stay with boys and girls of their own age who share similar interests.
This is an exciting opportunity for a number of children to forge lasting friendships as well as being an enriching and educational experience for all.
Host families should be able to accomodate the Spanish boy or girl for three to four weeks in June 2020
THERE IS A SUBSTANTIAL ALLOWANCE PAID TO SUITABLE FAMILIES WHO PARTICIPATE
If you are interested please collect a letter and leaflet from Room 1."
Year 7 French – 13th December 2019
"7S and 7I have being writing and designing some absolutely beautiful Christmas cards in their French lessons this week" writes Mrs Rostron.
They will be sent over to Year 7 pupils in our exchange school in Marcq-en-Barœul, Lille to establish a penpal link.
We are sending them today and really hope that they arrive in time to wish them a 'Joyeux Noël!' from Timperley!"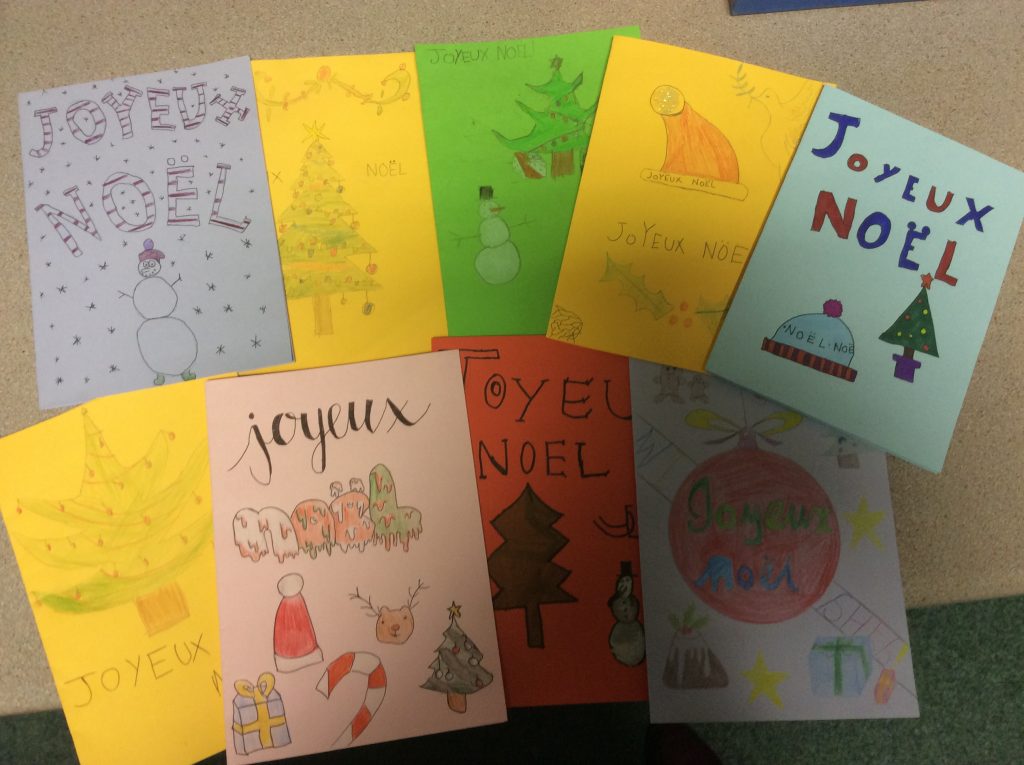 9A French Penpals – 28th June 2019

"9A have received their most recent letters from their French penpals in Marcq-en-Baroeul this week" writes Mrs Ramsumair. "They were delighted to have them, but a little jealous that our French friends are already on their summer holidays! We will soon begin preparations in earnest for the 2020 Exchange trip to Marcq-en-Baroeul and Year 9 are looking forward to the opportunity to meet their penpals and see the school and area they have heard all about in their letters!"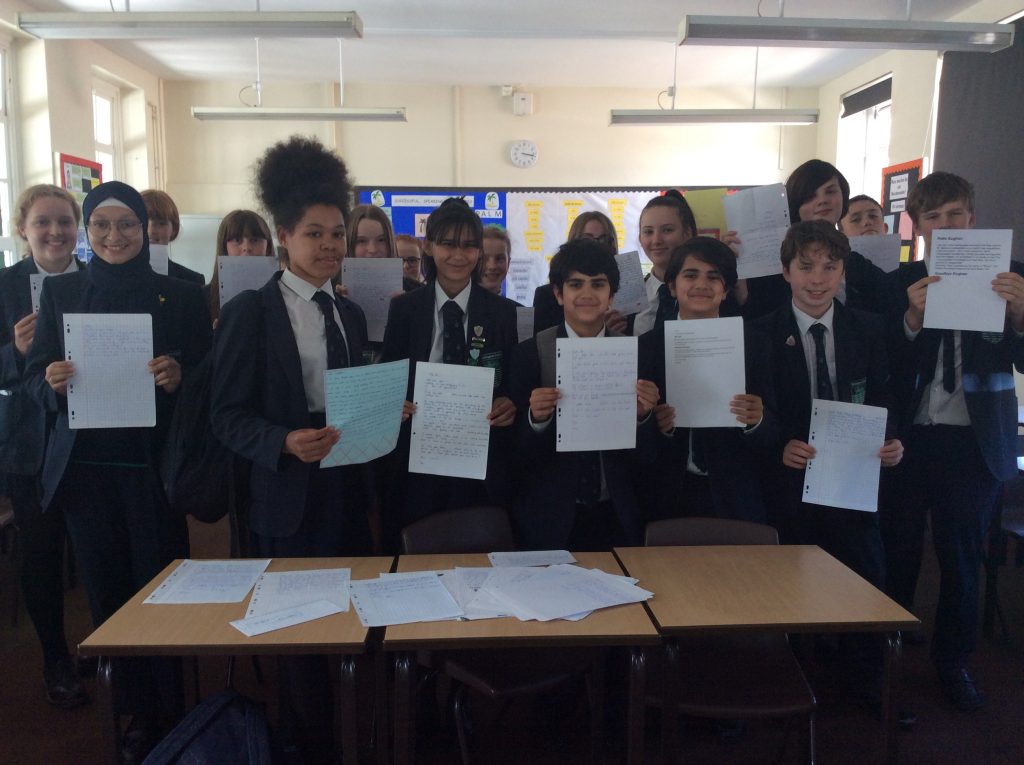 'Victoria & Albert: Love Letters' German Writing Competition – 7th June 2019
Miss De Sacco with this fabulous news she received today:
"Two Year 8 German students have won second and third prize in the 'Victoria & Albert: Love Letters' Writing Competition. Toby Smith was awarded the second prize, and Madeleine Tully the third price in the 'Secondary School Pupils (aged 10-14)' category. Not only have they been invited to the award ceremony in London on 28th June 2019, their re-imagined letters between Queen Victoria and Prince Albert will also be displayed in the Goethe Institute's exhibition on love letter writing, which will feature during the Exhibition Road Festival from 28th June to 30th June. Well done Toby and Maddy on this amazing achievement!"
International Slavery Museum Trip – 8th May 2019
Mr Gerschler with this trip report:
"On Wednesday 8th May 2019, the History Department took 59 Year 8 pupils to the International Slavery Museum in Liverpool. All pupils had the opportunity to broaden their understanding of the Slave Trade, the legacy of Slavery and the impact significant people of African origin have had on current society. It was a fantastic trip and all pupils really benefitted from the visit."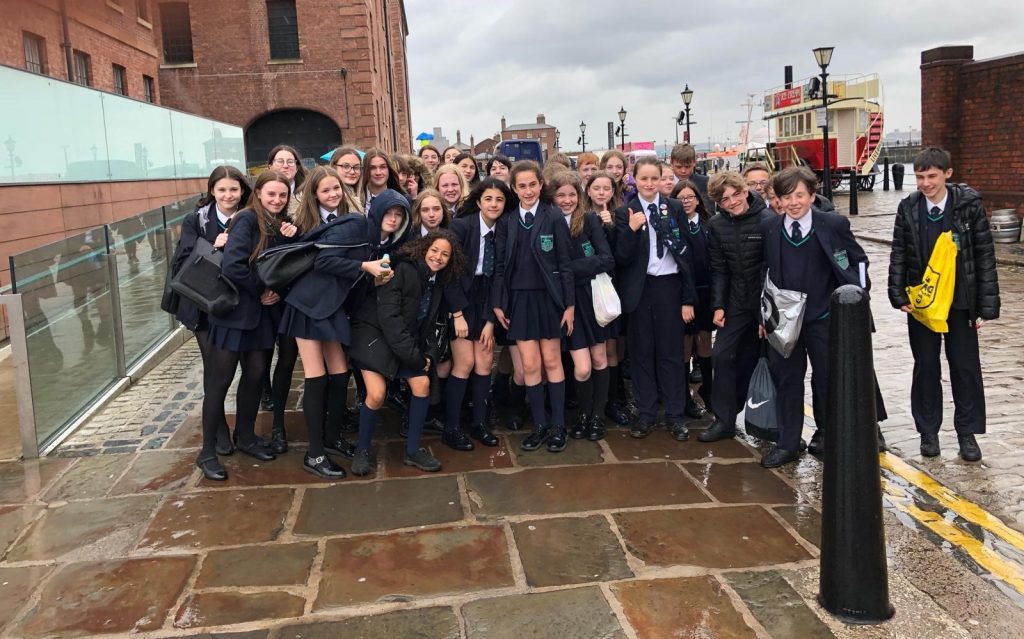 French Culture Club – 1st May 2019
This from Mrs Ramsumair:
"Today our dedicated francophiles were learning about the importance of the 1st May as "La fête du Travail" or Labour Day in France. The pupils were very disgruntled to hear that they would not be in school if they were in France, but recovered when we reminded them that they don't have to come in on Monday! Our Foreign Language Assistant, Claire taught them about the significance of the muguet (the Lily of the Valley which is offered on Labour Day) and the historical background of this special day, and then they got busy crafting these beautiful wire decorations, whilst listening to some French music – for a truly authentic feel!"
Battlefields Trip – 1st May 2019
Miss Memery with this trip report:
"It was an early start for 38 Year 9 pupils, Mr Beeley, Mr Brown, Miss Puddepha and I on Wednesday morning as we set of for Belgium to embark on the Battlefields Tour.
A smooth journey down, besides the numerous questions of 'are we there yet?', the tour began immediately on arrival, with a stop at Lijjsenthoek Cemetery, the second largest British war cemetery in the world. Our tour guide Mike instantly captivated the pupils by telling the story of Nellie Spindler, one of only two women buried in Belgium during the war. Then, it was straight to the hotel to unpack and unwind ready for the busy days ahead.
Day two brought us to the Battlefields of the Somme and the personal stories of the many soldiers who lost their lives fighting for a patch of land. With visits to Lochnagar Crater, Thiepval and Newfoundland Park, pupils were able to reflect on what they have already learnt in class and understand the impact of such events on people's lives. We were able to walk in trenches and get a sense of how it would have felt waiting for the order to go over the top. In the evening we went to the Menin Gate and were able to watch and listen to the Last Post being played in a moving ceremony led by the Fire Service. We were also honoured to have two pupils take part in the parade and lay a wreath on behalf of the school, thanking all the soldiers for their sacrifice.
Today, like the two previous days, has also provided us all with many educational and memorable experiences. We visited the grounds of the Battle of Passchendaele, at Tyne Cot, the largest British military cemetery in the world. Here pupils were each given a Remembrance stick to place down. Finally, we headed to Ypres where pupils had chance to sample the famous Belgian chocolate, of course the staff participated too. With lots of, some would say too many, euros spent on chocolate it was time to head back to the coach as we embark on our long journey home (we're hoping the traffic is kind to us).
Three days visiting many battlefields and cemeteries, has helped the pupils put their learning into context and see the actual cost of the Great War. Many important questions asked and individual judgments made. What are we remembering? How do we remember? What is the significance of remembering? When asked about the trip one pupil said 'you learn about the numbers in the classroom, but coming here really brings the history to life'."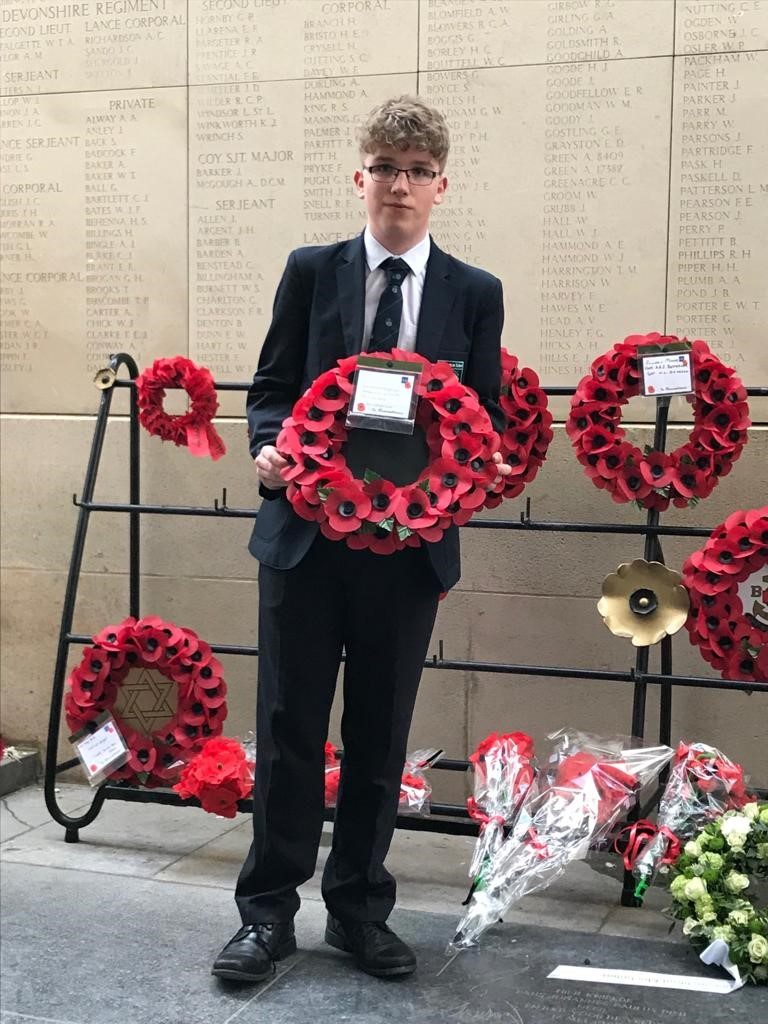 Language Link – 18th April 2019
Over recent years, Wellington School has invited a number of Spanish boys and girls to attend classes towards the end of the summer term.
A number of host families are required to participate in this year's Language-Link programme commencing from around the last week of June, 2019. Families would be paid to accommodate students for either three or four weeks depending on the age of the student.
If you are interested, please click below for more information from Language Link.
Alternatively contact Mrs Stevens in the MFL Department.
French Culture Club – 29th March 2019

This from Mrs Ramsumair:
"This week's Culture Club, hosted by our Foreign Language Assistant Claire, focused on French Easter Traditions and our culture clubbers were treated to an Easter Egg hunt, for which they made and decorated 'un lapin de Pâques' (Easter Bunny) cone. Joyeuses Pâques à tous!"
Japanese Lessons – 22nd March 2019
Mrs Collins writes:
"Over the last 5 weeks, 20 students from Years 7 to 11 have been learning Japanese. Suki Broad from Manchester University has been teaching them the alphabet, greetings, feelings and emotions and food. The students have been extremely enthusiastic. Here are some of them with their teacher and their certificates."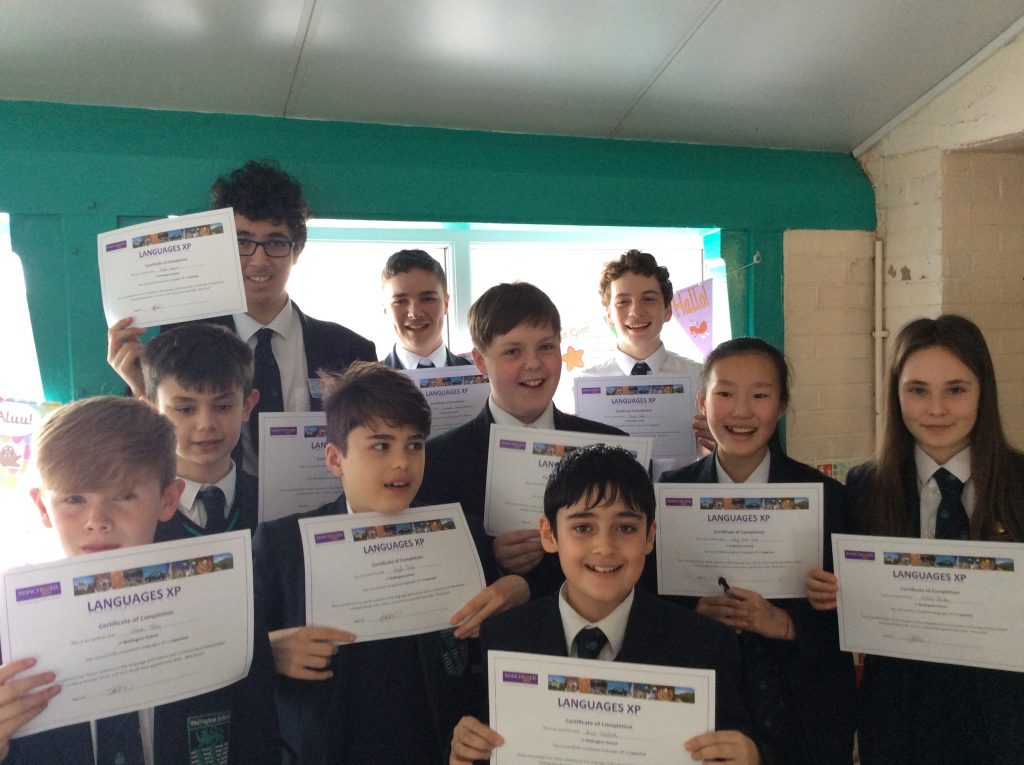 Tomi Komoly Visit – Thursday 14th March
Mr Gerschler writes:
"On Thursday 14th March, Year 9 were visited by Tomi Komoly. Tomi survived the Holocaust and he came to speak to pupils about his life during and after the Second World War.
Tomi was born in Budapest, Hungary in 1936 and came to Britain as a refugee in 1956 thanks to a scholarship from Glasgow's Strathclyde University. When Hungary came under the control of the German Army in 1944, Tomi's life was changed dramatically. His father was forced to sell his business and forced to join a labour unit of the Hungarian Army. Tomi never saw his father again after 1944. He was forced to wear a yellow star and was the victim of various forms of persecution. He and his mother survived the final years of the war by refusing to enter the Budapest ghetto, instead hiding in 'safe houses' created by foreign embassies and the homes of sympathetic friends. His mother only escaped deportation to a Concentration Camp by refusing to enter the train and by running from the line, narrowly escaping bullets being fired in her direction. Tomi survived bombing raids and having to live on little to no food.
Tomi is a lovely man and his story is truly inspiring. He spoke to Year 9 about the importance of appreciating everybody's individual differences, treating those in need with care and compassion and having the courage to speak out when you know someone is being treated badly. Year 9 were very thankful that Tomi took time out to come and speak to them and we hope that he will return to speak again in the future."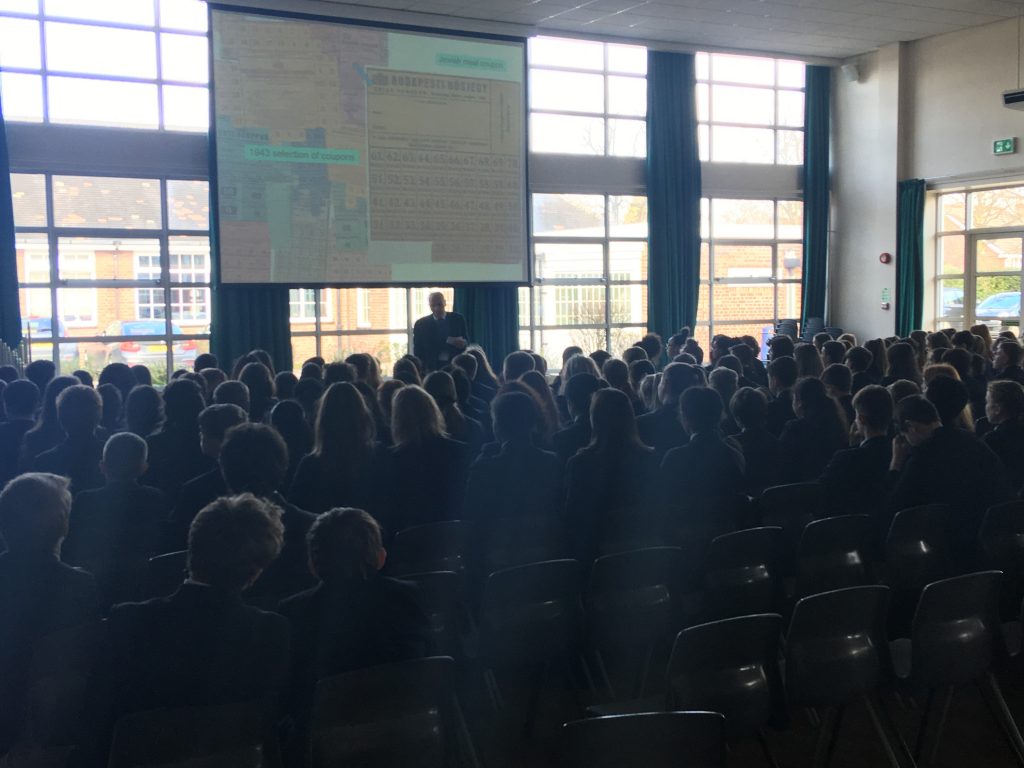 Fairtrade Fortnight and International Women's Day – 8th March 2019
Wellington School has been celebrating Fairtrade Fortnight and International Women's Day today! Mr Cropper's Year 12 Business Studies students have created posters and PowerPoints that have been displayed around school to raise awareness of Fairtrade. They are busy filming an informative video in today's lesson, which we look forward to showcasing next week in tutor time.
French classes in Years 8,9 and 10 have been learning about cocoa famers on the Ivory Coast and how their lives have been impacted by the Fairtrade Premium. They have also learnt some choc-tastic French vocabulary!
The MFL corridor was a hive of activity this lunchtime, with pupils from Year 11 congregating to listen to traditional music from the Ivory Coast and complete a quiz on Fairtrade Facts. The winners were given some yummy Fairtrade Chocolate prizes!
Mrs Ramsumair
Year 7 Spanish Penpals – 8th March 2019
Year 7 have just completed their second letters to their penpals in Spain. After learning how to describe themselves and their families pupils from 7H, 7F, 7I and 7S and written all about themselves, their families and pets including saying what they like and don't like. I am so impressed with their work and I know the pupils in Málaga, Spain will be delighted when they read the letters. ¡Buen trabajo!
Mrs Stevens
Year 7 Spanish Penpals – February 2019
Pupils in year 7 were delighted to receive their first letters from their pen pals in Málaga, Spain. The Spanish pupils introduced themselves and described their family, pets and favourite school subjects in response to our letters that we sent before the Christmas holidays.
We are looking forward to contacting them next week online via etwinning. ¡fenominal!
Mrs Stevens
Holocaust Memorial Day Commemorations – 23rd January 2019

"On Wednesday 23rd January, 8 Year 9 pupils took part in Trafford's Holocaust Memorial Day commemorations" writes Mr Gerschler. "These pupils had been rehearsing for about a month with Mrs Hamlin, Miss Memery and I, studying and reinterpreting poems from 'I Never Saw Another Butterfly'. This year's theme for Holocaust Memorial Day is 'Torn from Home' and this has made us think about how it would feel to lose the safe place we've always called home. The poems pupils studied were produced by children sent to the Theresienstadt Concentration Camp in Czechoslovakia during World War II. We chose to perform our interpretation of the poem 'Homesick', written by an anonymous child in 1943.
The event itself was moving and inspirational, full of messages of tolerance and understanding that are vitally important in today's current political climate. We heard from 3 pupils from Lostock College, all recent migrants and refugees to the UK, and they explained how much they have appreciated the welcome and support the have received from their local communities. We heard poetry from BTH, readings from Broadoak School and a moving choral performance from Brooklands Primary School.
Wellington's performance of Homesick was incredible. Members of the public were full of praise and even the Mayor or Trafford gave us a big well done. A huge thank you to all pupils listed below and to Mrs Hamlin and Miss Memery for their efforts and enthusiasm in helping to organise the production."
Pupils Involved: Jemima Buckley, Leyton Frankham, Jamie Bennett, Ben Rabbani, Josh Rabbani, Mya Dixon, Harry Whitehurst, Isabelle Goto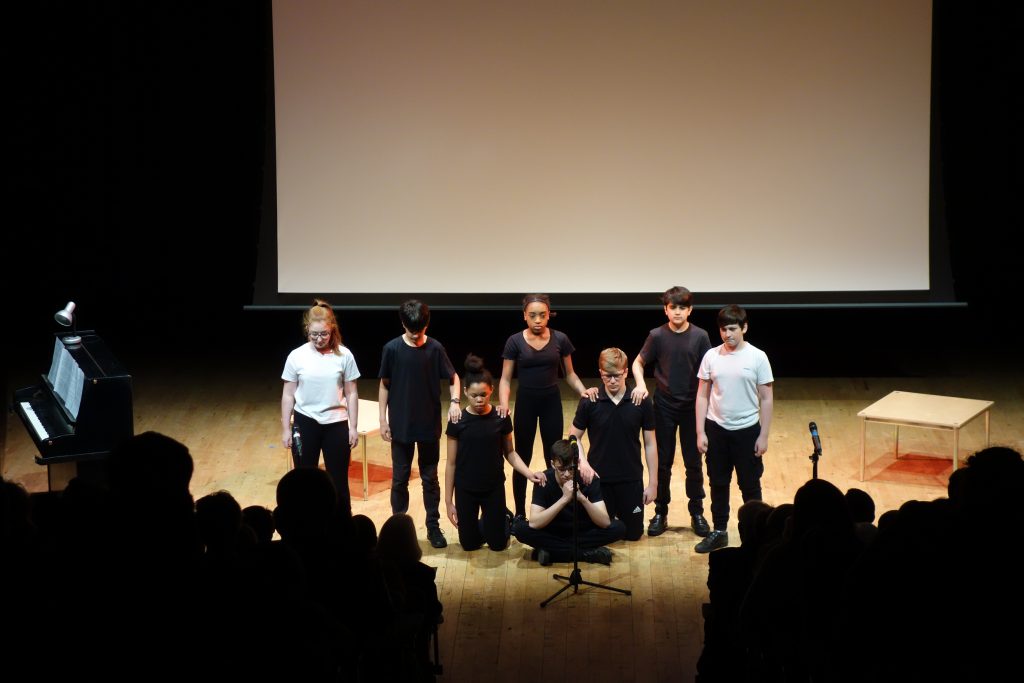 Bastille Day – 7th January 2019
This from Mrs Ramsumair:
"On Monday we welcomed 60 Year 4 pupils from Navigation Primary School for an action-packed morning of fun, learning all about the French national celebration of Bastille Day. Pupils were treated to nine different activities, including playing the traditional French game of Pétanque; creating a model Eiffel Tower using cocktail sticks and lolly sticks; sampling some French brioche and decorating a cake in the Tricolore colours – and much more! The morning's activities were rounded off with a rousing rendition of 'La Marseillaise' (The French National Anthem,) led by Mrs Moorhouse and her Year 10 singers. The day was made all the more special by our Wellington Ambassadors, Language Leaders and A-Level French students, who led each station and really engaged the Year 4s. Everyone commented on how lovely they were! It was a huge success, and we hope to run the event again next year. Vive la France!"
Christmas Celebrations in Antilles 14th December 2018
"This week, my Year 9 French classes have been learning about how Christmas is celebrated in the French-speaking Antilles" writes Mrs Ramsumair. "We have learnt about where these Islands are and their culture, including some traditional Christmas food and we have listened to a Guadeloupian Christmas song, "Dans le Calme de la Nuit." It may be cold outside, but it sounds like the Caribbean on the Languages Corridor!!"
Christmas in Spain – 14th December 2019
Mrs Rostron reports:
"This week Year 7 Spanish classes have been working with our fabulous Spanish assistant, Lucía. She has been teaching them about how Christmas in Spain is celebrated. They have seen lots of interesting photos, learnt about Spanish traditions such as 'El Gordo' and 'Día de los Santos Inocentes' and, most importantly, tasted some Spanish festive treats. Muchas gracías Lucía!"
Sankt Martinstag – 15th November 2019
Year 8 have been learning about Sankt Martinstag during their German lessons this week with Ms De Sacco and Ms Collins.
"The students have watched a short German film about the story of Sankt Martin, learnt about how German children celebrate this festival, as well as making lanterns and singing a traditional song."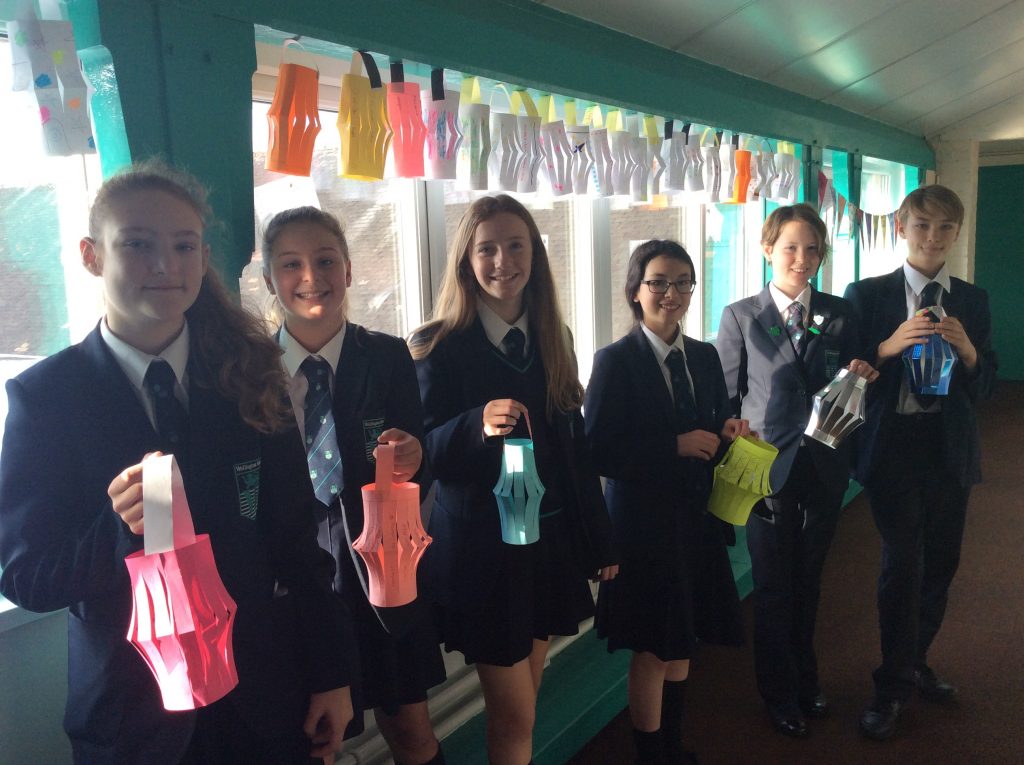 World Day of Languages – 21st September 2019
"Today we celebrated World Day of Languages at Wellington School", writes Mrs Ramsumair. "Over 40 volunteers from all year groups designed and delivered lessons to teach their peers a new language and introduce them to a culture that they may never have even considered before. The Year 7 and 8 pupils who took part had 22 languages to sample and our volunteers showed them traditional dress, sweets and games, as well as giving them an introduction to the language. We even had a lesson in how to prostrate – bend low – to greet elders in Yoruba culture. As well as learning an array of foreign languages, pupils were given the opportunity to visit our International Café, run by our Year 10 Language Ambassadors and Mrs Williams, Head of Languages.
Walking around Wellington School today, you can see approximately 50 different ways of saying "hi" on our colourful bunting displayed on teachers' doors. We have also held our annual Celebrity Badges competition; where Year 7 pupils have been given the task of finding the language spoken by a variety of celebrities indicated on badges worn by staff all over school.
The activities didn't stop at lunchtime, and many students gathered in Mrs Ramsumair's room to try and guess the number of sweets in the jar. They were given one clue: the number of sweets roughly represented the number of languages spoken in the world today. This has started some interesting conversations around school, including in the staffroom. The winner will be announced on Monday morning…don't eat them all at once!
All in all, the atmosphere on World Day of Languages 2018 has been of enthusiasm and intrigue. A passion for languages goes beyond the classroom and today has helped to establish that. Thank you to all helpers involved."